The changing nature of online learning delivery
Having identified those workplace learning topics that contribute effectively to improved business performance, we have developed a Business Essentials Catalogue delivering learning modules that support improved business results. But that wasn't enough - we also include our SPARC model resources with our catalogue so that you can assess your training effectiveness - because the whole point of training your team is to drive business improvements.
What you get with elearning plus+
Training courses, platforms and solutions that focus on delivering real business impact: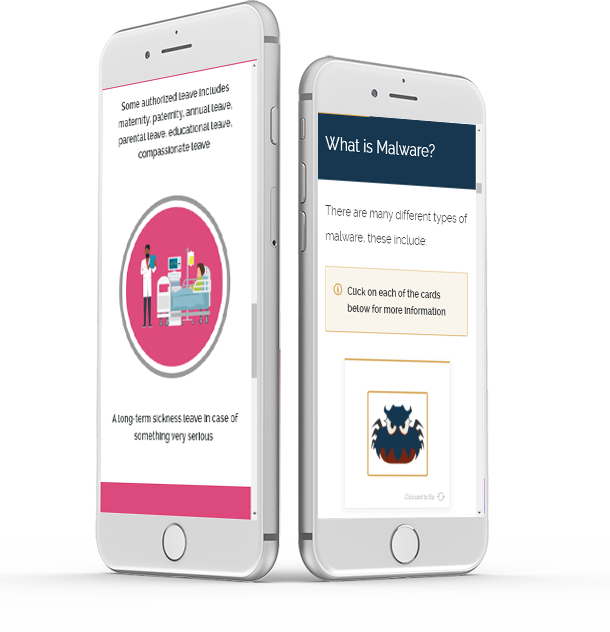 Learning that delivers measurable business results
We aim to be different. Our approach is to support you in delivering improved business results by providing your people with high quality course content. Organisations are more likely to invest in training that generates business impact so we focus on delivering a catalogue of course content that supports real impact in the workplace.
So how do we do this?
We create course content that:
Works across devices, so learners can use in the office, at home or in the field
That is self contained, so there are no folders or external resources to wade through to find the actual course content
That is engaging by introducing interactive elements, video and activities
That provides knowledge checks throughout the course to ensure learners are grasping new concepts
That provides assessments where appropriate to enable a formal audit of achievement
That provides certificates to motivate and support the learner
That has blended resources included to aid take up, retention and the ability to apply new skills within the workplace e.g. fact sheets, memory joggers, workbooks
Determine the effectiveness of your training
All training should deliver tangible business results. You need to determine what training your learners really require and then provide high quality training that meets these needs. You also need to measure the results of that training, before delivery, after delivery and on an ongoing basis.
Measuring training effectively is a challenge and so we developed the SPARC model as a method of helping you manage and deliver effective training programmes within your organisation.
As part of the SPARC model, we have developed supporting tools for each stage so that you can ensure your training delivers appropriate business impact. These resources are available as part of our course catalogue
KPIs should measure performance, be quantifiable and linked to business goals. Do not use KPIs that offer little insight into the value of the training itself, such as:
•  Amount spent on training
•  The number of hours of training delivered
•  Post-course evaluation scores
The above measurements are not indicators of performance as they don't provide any insights into the end goal of the training, which is improving job performance. Instead, use figures such as:
Training ROI %
Reduced costs %
Increased sales %
Time savings %
Reduced error rates %
Improved output %
Reduced scrap %
Improved quality %
Let us show you why we are the leading elearning provider in the UK