Nurture, retain and attract your people through Strategic learning.
At eLearning Plus+ we combine strategic learning with tactical delivery to maximise business performance.
At eLearning Plus+ we're well aware that people are fundamental to the success of your business. We help you nurture, retain and attract your people through strategic learning focused on personal development and business objectives.
eLearning Plus+ enables the development of effective learner pathways alongside a structured and engaging delivery programme. Our in-house content team has the skills and technology know-how to generate every type of learner resource depending on your individual requirements. We'll also help you ensure that your training is balanced and inclusive across your organisation.
If you have immediate training needs, we can support with pre-built online courses, customised courses, resource creation and a learner focused platform that's quick to deploy, cost-effective and simple to use.
Learning eBook

Objectives:

Nielsen needed an alternative to a traditional learning module for senior leaders that outlined the move to a Principal Operating Company (POC). They needed an approach that leaders would engage with, but would also provide the essential information in a clear and concise format.

Approach:

Alongside the development of other learning materials, we created an interactive eBook that provided essential information in an engaging and highly visual format. Creating a dynamic eBook that used tabs and a metro style of delivery, we enabled the learner to move from a quick overview through to a much more detailed briefing. We also incorporated rich media elements within the eBook, including video and audio. In addition, we provided the ability to download approved PowerPoint decks from within the eBook, so they could present to an auditor or team members using an authorised deck.

Outcomes:

High take up and interaction with content
Awareness raised on critical POC topics
Key knowledge and learning delivered without it feeling like a typical training module

LMS and Induction Programme

Objectives:

IPS Cullina employs a continually changing workforce across its process lines, many of whom do not have English as their first language. A considerable amount of time and resource was used every time their were changes in personnel through onboarding and re-training for process line switches.

Approach:

An onboarding programme of courses and a focused learning portal was developed for both existing and new employees to ensure compliance was met and the correct processes and procedures followed. We created a series of elearning courses as well as providing the LMS platform, so team leaders and managers could ensure adequate training delivery and check on compliance via the reporting module. The material and portal covered multiple sites and locations and simplified learner management and roll out

Outcomes:

The highly visual style course format enabled non native English speakers to get to grips with content quickly and easily. A compliance audit trail was provided via the LMS
as non conformances were more easy to spot. Learner support resources including policies and checklists reduced mistakes and kept process lines flowing with minimal downtime.

Interactive Video Portal

Objectives:

IBM was looking for a way to increase engagement and interaction with their mobility management proposition. They wanted a way of educating their viewers on the benefits of their mobility management solutions but were unsure how best to engage for maximum impact.

Approach:

After discussions with the management team, we created a micro learning portal, filmed and edited a carousel of videos at their Dublin office and created interactive video overlays for all the video modules. A learning portal was also created to host and deliver a variety of assets to support the video delivery. Using interactivity within the videos enabled us to pause the video and ask key questions that helped inform the future direction of the proposition. Viewers were also able to link to further resources straight from the videos.

Outcomes:

Viewer report data provided key information to determine areas of interest and improve the roll out success of the mobility management proposition.
The interactive video format also increased video views and viewing duration leading to increased engagement with further marketing materials.

Acoustic Control iPDF

Glassolutions,

Saint Gobain

Objectives:

With such a wide range of glass-based offerings, Glassolutions needed to explain very clearly the properties and application of each particular glass solution. The challenge was how to do this without it looking like a traditional course so that it would be used by a wide variety of people, both internally and externally.

Approach:

We created a range of interactive PDFs that enable the learner to move around the content freely and learn in a way that doesn't feel like a typical learning module. The use of icons for navigation made using the learning resource easy and intuitive. By using an interactive PDF, the learning resource was downloadable as well as emailable and so could be sent to anybody who needed the resource without requiring an LMS platform or login. The resources Included supporting videos and infographics to extend the take up of the knowledge pieces.

Outcomes:

Clearer audience understanding of glass properties
Improved knowledge across the sales teams and the sales channel
Format and style well supported compared to previous formats

Customer Service Course, Workbook & Worksheets

Objectives:

Homes for Haringey needed to upskill a large number of their employees in order to significantly improve the area of customer service. But with  restrictions in place around physical classroom delivery, they needed a solution that could be used  for remote delivery to a large numbers of learners.

Approach:

In tandem with First Impression Training who typically deliver face to face training around Customer Service, we created an in-depth, device friendly elearning course with supporting workbooks, digital resources and coaching resources for a true blended delivery.

12 in depth modules delivered a highly detailed customer service programme that works across multiple devices
Digital Workbooks and downloadable worksheets accessed directly from within the course
Reflective exercises, video, audio, external links, interactive components & knowledge checks used  throughout the course
Provides 80 hours of CPD accreditation

Outcome:

Fully blended approach has improved the scale and effectiveness of the programme
Digital format makes remote rollout simple and efficient

Workbooks & PowerPoint Decks

Objectives:

A large-scale government training project required the creation of training materials to be used across a large and varied audience that would provide essential knowledge and upskilling. Engaging and focused materials were also required as part of their train the trainer programme to expedite roll out delivery across a large audience.

Approach:

We created several PowerPoint training decks and accompanying workbooks that trainers could use across a large and varied audience.

Creation of Highly visual PowerPoint training decks
Creation of an accessible workbook
Workbooks created as both PDF and Word Docs so they could be used for a variety of purposes

Outcome:

Blended learning delivery increased audience engagement
All the training workshops were delivered consistently and with highly visual and engaging materials
Knowledge transfer was highly effective for a such a mixed audience across tight timescales

Animated Video & Portal

Scottish

Power Renewables

Objectives:

SPR is involved in the deployment of windfarms both on and off shore, however turbines can appear as planes on radar systems, confusing the readouts. SPR needed an approach that would enable a non-technical audience to understand the challenges to be addressed and the solutions proposed to mitigate these challenges. This included key stakeholders including Members of Parliament and high ranking military personnel.

Approach:

We created Project Green Blade to deliver a suite of materials and resources to educate and engage the audience. This included an animated video and a micro learning portal as well as a range of supporting interactive PDFs.

An animated video was used to explain the effects of radar on windfarms and the mitigation proposed including a professional voice over to explain the concepts.
The creation of a micro portal to host and deliver essential information and resources
The development of interactive PDFs and other documents available as downloads from the portal

Outcome:

Simplified a complex subject and knowledge transfer for a non-technical audience
The Project Green Blade brand grabbed attention quickly due to the engaging nature of the materials and the portal

eLearning module, videos and interactive PDFs

Glassolutions,

Saint Gobain

Objectives:

Vitrio from Glassolutions is a premium priced glass technology used for splashback guards within homes. The cost of poor measurement and installation led to fixing problems and the cost of breakages was considerable.

Approach:

We created a variety of videos, interactive PDFs and an elearning module to specify precisely the processes to follow for both measurement for glass manufacture and for successful installation post manufacture.

Online training modules for installers
Helped identify how to tackle measurement and installation
Filmed videos show the critical process points
Knowledge checks helped ensure the right equipment and PPE was in place to ensure safety on the job

Outcome:

Reduced waste (and costs) due to poor measurement. As a glass product, if measurement is wrong there is nothing that can be done to fix this post manufacture!
Reduced problems on installation as the product matched the walls and outlet points exactly
Increased satisfaction levels with customers, with improved delivery and installation times

eLearning Module and interim LMS platform

Objectives:

Nielsen wanted to extend support beyond the leadership team for the learning materials we had created explaining the move to a Principal Operating Company. Nielsen needed an efficient way to explain to key employees why the move had been made and what this meant in terms of working practices for both clients and external partners.

Approach:

Following the theme and style we had created for their leadership eBook, we developed an interactive elearning course that made use of tabs and buttons as an alternate style to the more traditional screen based elearning course. We also set up an interim LMS platform so that the materials could be assessed and piloted before full roll out.

Incorporated knowledge checks to test comprehension
Replaced classroom based delivery (difficult to do across many thousand of learners)
Interactive elements to increase engagement
SCORM output for measurement within the LMS

Outcome:

High level of engagement and interaction with the course
Complexity of the subject significantly reduced by breaking a complex topic down into discreet and manageable sections.

eLearning Module & Hosting

Objectives:

GMAST (the Greater Manchester Arts Sustainability Team) were looking for a way to educate the cultural sector within Greater Manchester around the topic of sustainability. This included what being sustainable means and how this could be applied in partner organisations.

Approach:

After a consultative discovery session, it was decided to produce an interactive eLearning module that could be used on any device. This module incorporates interactive elements to increase engagement, provide focused video clips and knowledge checks as well as key stats. The module also provides links to external resources and further resources. We also host the eLearning module for GMAST.

Outcome:

The eLearning module was a fun and interesting way for those in the culture sector to increase their understanding around the topic of sustainability and apply the principles covered within to their own organisations. This has led to a strong commitment to drive sustainability projects across the culture sector within Greater Manchester, with the obvious benefits that this provides to both the environment and Greater Manchester's move to lowering carbon and improving air quality.

Business Essentials Course Catalogue & LMS

Objectives:

Anxiety UK needed to provide essential compliance to its internal team to ensure they were up to date on key legislative areas and to develop other workplace skills. The challenge was how to cover a wide range of topics and deliver this to a remote workforce.

Approach:

After discussing how best to address their needs, Anxiety UK took the full Business Essentials Course Catalogue from eLearning Plus+ alongside our LMS to deliver a wide variety of training as and when needed on key workplace topics. As each course within the catalogue is between 40 to 60 minutes, this meant that completing a course was practical within the working day.

Full elearning catalogue available to Anxiety UK via our LMS
Ability to provide full access to courses as and when needed
Courses available 24x7 from any location

Outcome:

Compliance training worries removed
A wide variety of workplace training for a remote and diverse workforce available when appropriate
Key reports available to demonstrate compliance training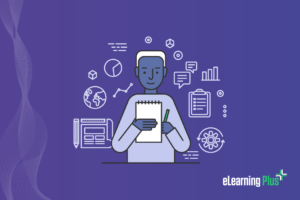 Resources
It's no surprise to any of us that hybrid working is here
Read More »